Wilder
Wilder is the winner of the 2018 Lindquist & Vennum Prize for Poetry and a finalist for the 2019 Minnesota Book Award. You can purchase Wilder at any of the following places: Milkweed Editions, Indiebound, Barnes & Noble, and Amazon.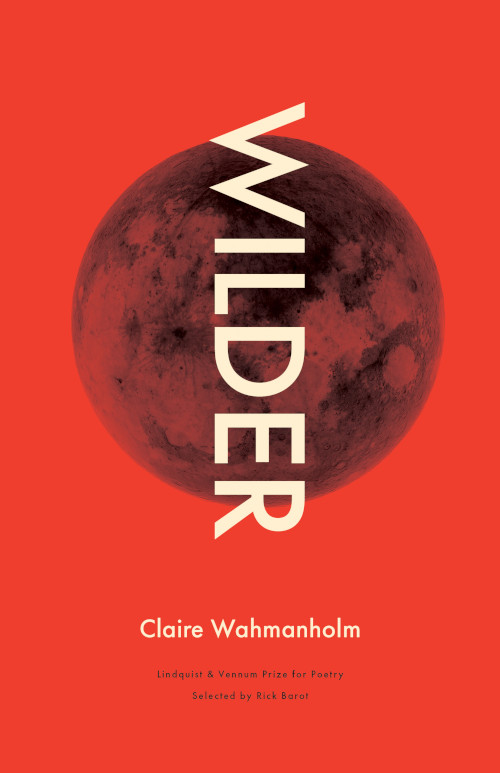 Reviews in Publishers Weekly, The Arkansas International, Lunch Ticket, Paperback Paris, Meridian, The Washington Independent Review of Books, EcoTheo Review, RHINO, and Flyway Journal of Writing & Environment.
Rebecca Gayle Howell
"Claire Wahmanholm channels the singular voice of H. D. as she travels us through a landscape wounded, this time not by the industrial military complex, but by the industrial greed complex. Wahmanholm's gorgeous, epic lyric breathes across time and place, self and other, blame and consequence—placing the song of impossible hope not with our news cycle but in our lungs, on our tongues. In its end, this oracular voice teaches us that despite it all we grow to 'see deeply into each other, all the way to the marrow.' Please God, may it be so."

Sun Yung Shin
"Wilder is a gorgeous, heady book of fables touched with a kind of black moss, or jellyfish tendrils, or nets and ghosts. Throughout the collection, we are implicated in a never-ending journey—continuously emerging from the underneath of things, the excavations of the world, the lightless places that lead to the sea. Moments are exquisitely strange and strangely exquisite. There is an abundance of being lost, of encroaching upon apocalyptic moments, of falling back to burning music. In Wilder, we are all eternally, or suddenly, feral children left to our own shared devices. Merry with memories that are now suspect, we are led on circular treks through one shifting illusion after another. Doom and freedom seem to be the same in these landscapes but our sense are more alive than ever. Here we are howling, smoking, crooked, afloat through skies of vultures and honeycombs."

Maggie Smith
Claire Wahmanholm's Wilder is bewildering and born of collapse. These searing poems spring not only from the end but from the imagined after, excavating from the ruins of this world 'the birds swooping from the trees to land / beside their own bones, // our bodies reaching down to grab our shadows by the hands.' I cannot recall a collection of poems that thrilled and devastated me more."

Rick Barot
"Long after I finished reading Wilder, I was in grief that its beauty had ended, and also in grief over the spoiled world it describes. Stripped wholly of autobiographical content, the poems in this book seem like the texts written by an ancient collective—texts that are at once full of wonder and bewilderment, cosmic vision and earthly pain. Except that the book's voices aren't those of the ancients after all, but of those in a disturbingly probable future where bleach dapples the ground, relaxation tapes play in manic loops, there are bombs in everyone's bellies, and grief travels through the body like mercury. Intimate as well as mythic, Wilder is a staggeringly dark proposition about where we are going. And while the book offers no easy scenarios of rescue or solace, its lyricism is nonetheless steeped in vibrant making. As the speaker of one poem says, 'We had seen many last things: the last acorn, the last lightning storm, the last tide.' And maybe, just maybe, in the artfulness brought to that exquisitely vatic catalog, the work of repair takes place."




Night Vision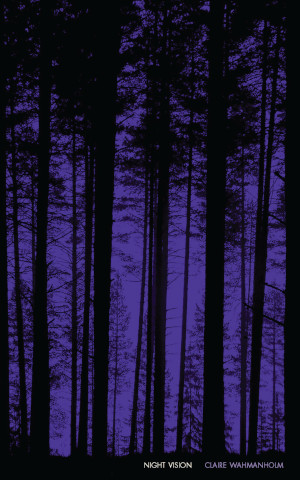 Night Vision, winner of the 2017 New Michigan Press/DIAGRAM chapbook contest, is available for purchase here.

Read reviews at Newfound, Gulf Coast, and Tarpaulin Sky.

Kristina Marie Darling
In Claire Wahmanholm's Night Vision, we are made to witness narrative's inevitable unraveling. By placing hybrid prose in conversation with skillful erasures, Wahmanholm creates a subtle and striking commentary on the nature of language and story. She reminds us of the infinite ways that voice resists containment by history, convention, and our expectations as readers. In each lyric fragment, each fracturing of the source text, we are shown all that has been buried in the trappings of prose. This is a gorgeously subversive chapbook, a work that reflects powerfully on the circumstances of its own making.